There's one thing you may not know about me, although it probably will not come as a surprise, I am absolutely in love with fashion. I was never interested nor dared to share my fashion inspirations through fashion blogging and I do not intend to change that. But fashion and photography do have a lot in common and have a long passionate history together. My work has always showed signs of flirtation with fashion and you may have noticed this influence slowly growing stronger and stronger. In the ideal world I would love to have a full control not only over photography but also over styling.
But there's a catch, planning and executing entire shoot as a photographer while being full time employed is a lot to handle and at this stage I don't have enough time to be able to do both. I truly believe that one day I will be proficient enough to be able to execute entire shoot wearing two hats of both the photographer and the stylist. In the meantime I am looking to build long lasting creative collaboration with some talented aspiring London based stylists! So if you share my aesthetics taste and you're looking to expand your portfolio, don't hesitate to get in touch! You can find out more about my fashion inspirations by following this Pinterest board, this is where I collect variety of styles and trends that I would like to photograph. If your idea is somewhere there, I will sign it with my eyes closed.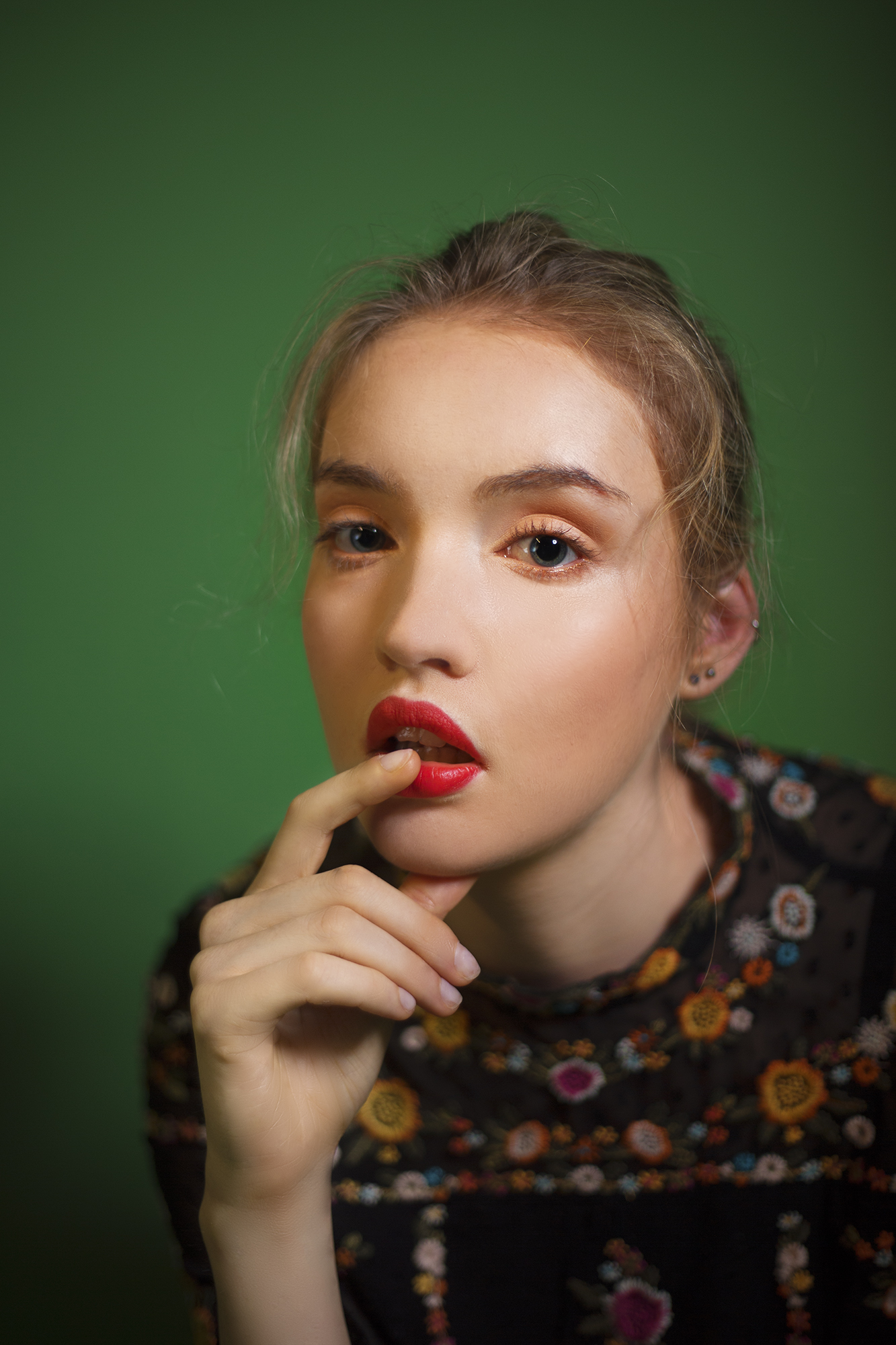 Today I will introduce you to one of the test shoots that I styled myself. I have a long term obsession with embroidered folk flair a la Valentino. The new autumn/winter Zara collection is seducing me with their cozy velvet garments adorned with Slavic patterns hailing resemblance to Russian and Ukraininan folklore. The test turned more into beauty shoots after I reviewed final shots. I could not resist concentrating on highlighting fresh bright and lushy make-up looks created by talented make-up artist Laura Onea, who shares my admiration for folklore. Red lips and rusty toned eyeshadow highlights natural beauty that very much goes with the green background. For this shoot I had a pleasure of photographing beautiful model Nancy Morris who is also healthy lifestyle enthusiast and vegan, blogging on SuperfoodScrumptious. This shoot is also one of the first studio shoots I will be featuring on this blog in the feature. Let me know what you think about the folklore styling and the lush green shots!